UF10-0400E
Hollow Fiber
Membrane Systems
The next generation in affordable residential water treatment.

Features
Unlike competitive technologies there is no waste water.
These membranes assure that most effective microorganism control with a 99.9999% reduction in harmful bacteria, Guardia and Cryptosporidium from drinking water.
Minerals remain in the water after purifications.
Designed to be inserted into any membrane housing or encapsulated and ready to install on any filter system.
What you get is pure fresh and always available drinking water with a consistent and fast flow of water from the faucet.
Options and Performance

| | |
| --- | --- |
| UF 50- 12" Membrane | 125 GPD @ 60 PSI (4.1 Bar) - 72°F (21°F) |
| UF 50E - 10" Membrane (Encapsulated) | 100 GPD @ 60 PSI, (4.1 Bar) - 72°F (21°F) |
| UF 400 - 12" Membrane | 1,000 GPD @ 60 PSI(4.1 Bar) - 72°F (21°F) |
| UF 400E - 10" Membrane (Encapsulated) | 436 GPD @ 60 PSI, (4.1 Bar) - 72°F (21°F) |
UltraGuard™ provides ultra filtration (UF) hollow fiber membrane technology using a low-pressure dual barrier fiber process which is capable of removing the following contaminants:
Harmful bacteria and cysts
Fine sediment
Viruses
Suspended solids
Colloidal materials
Large molecular weight organic materials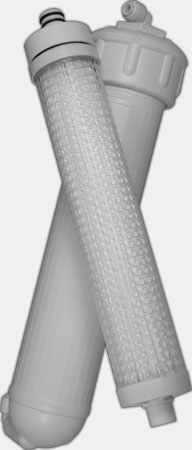 Specifications

Chlorine

100 PPM @ 7 pH

pH

2 - 13

MAX Operating Temperature

120°F ( 50°C)

Operating Pressure

Max. 60 PSI (4.14 Bar)
Min 10 PSI (.7 Bar)
Standard membrane fits into any membrane housing
Tolerant to chlorine and most strong oxidizing agents
Made up of polyethersulfone (PES) hydrophilic polymer membrane that resist fouling
Stable at wide range of pH
Dual barrier membrane allows water to flow in either direction (backflush) which reduces concentration of containments to extend flow rates and the life of the element
Better quality than most bottled water
Fast flow from the faucet
Stops harmful bacteria, Guardia, Cryptosporidium
Works on water pressure as low as 10 PSI
Back flush capability to maintain productivity
Out performs UV and RO bacteria reduction
UF 99.9999% compared to UV 99.99% RO 99%
Can eliminate waste water associated with RO system use